Project name: 'Danang FantastiCity' Chatbot Application
Under trial from November 2017
Total support interactions: 121,347 times (avg. 674 assisting engagements per day)
Total users: 9,737 users
Users represent 12 nationalities.
Language availability: Vietnamese, English.
In an attempt to increase the variety of tourist self-service tools and information channels, Danang Department of Tourism worked with Hekate Technology Co. to develop and experiment Vietnam's first travel assistant tool in the form of mobile messaging app – Danang FantastiCity Chatbot.After a 6-month trial, this travel assistant has shown positive outcomes, providing immense support for tourists who is in search for information about the city.
MAIN FEATURES OF THE TRAVEL CHATBOT
Up-to-date information about destination: during the 6-month trial operation, the travel bot has gone through frequent updates various subjects: Attractions, Events, Experience, Accommodation, Weather in Danang for next 3 days, and other Good-to-know info
(public toilets, ATM locations, support hotline…)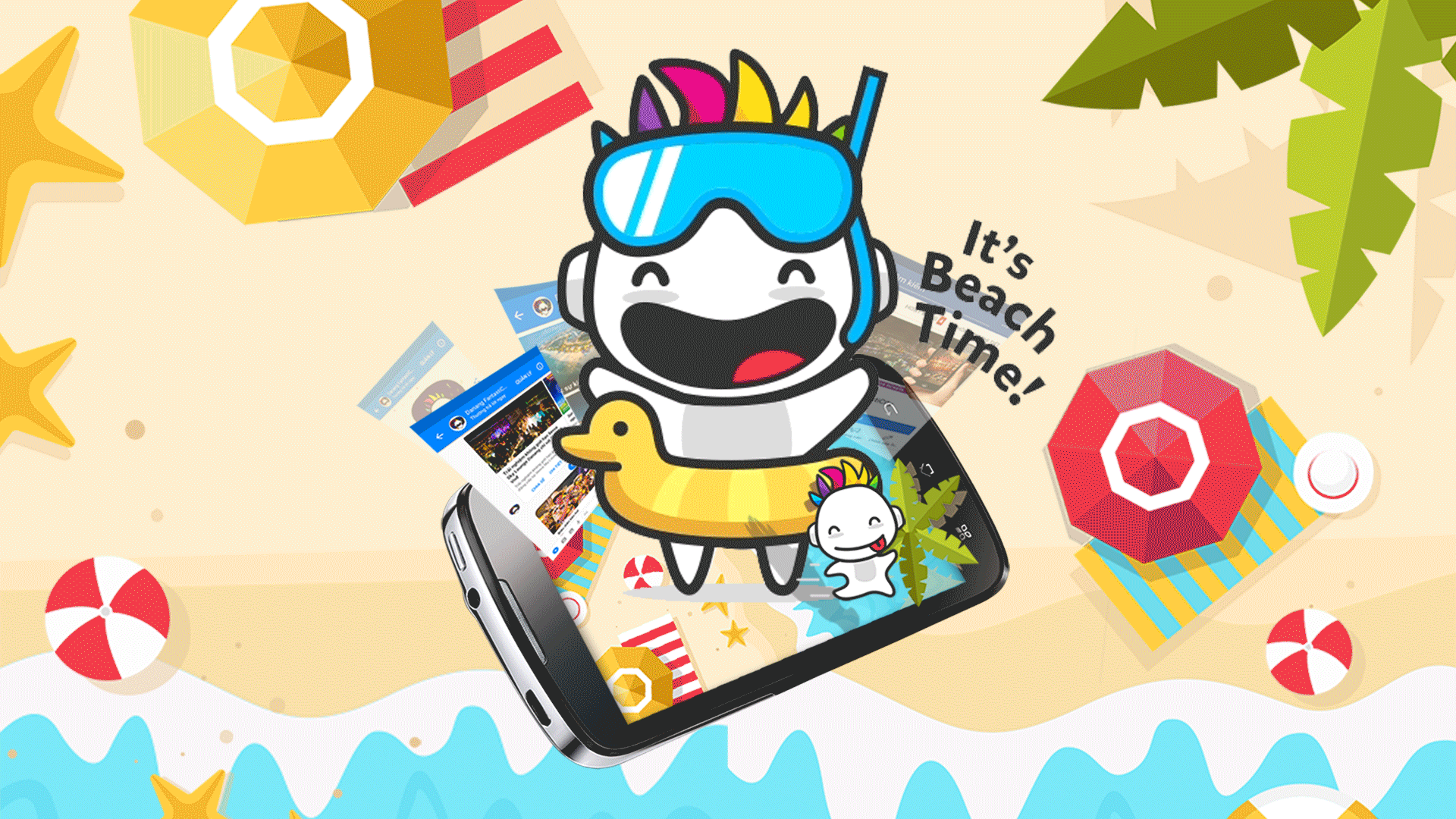 MORE OPTIMIZED FEATURES COMPARED TO CONVENTIONAL CHATBOT
Up until now, compared to other existing bots in Vietnam, Danang FantastiCity Chatbot has been developed extra features which would guarantee tourists a fascinating experience. The advanced features include:
1. Signature mascot
Lively and delightful, the signature mascot of Danang FantastiCity Chatbot has won tourist affection with incredibly fun and cute expressions – a smart representation of the city's hospitality and friendliness. Throughout tourists' 'travel exploration' of Danang, this adorable mascot will help them find points of interest, attractions, restaurants, accommodation… in the simplest and fastest way possible.The mascot will be featured in 8 emoji stickers of: 'Hello', 'Ask me anything', 'OK You choose Vietnamese', 'Let's move on', 'So sad', 'Thank you'…
2. Highlighted events– all in one place:
The newly- added Event Countdown is considered as one of Danang FantastiCity Chatbot's notable features. This convenient function will help tourists avoid missing out on any on-going or future events in Danang city. In addition, the travel Chatbot can also plan route to interested events, thus giving holiday makers more autonomy and convenience.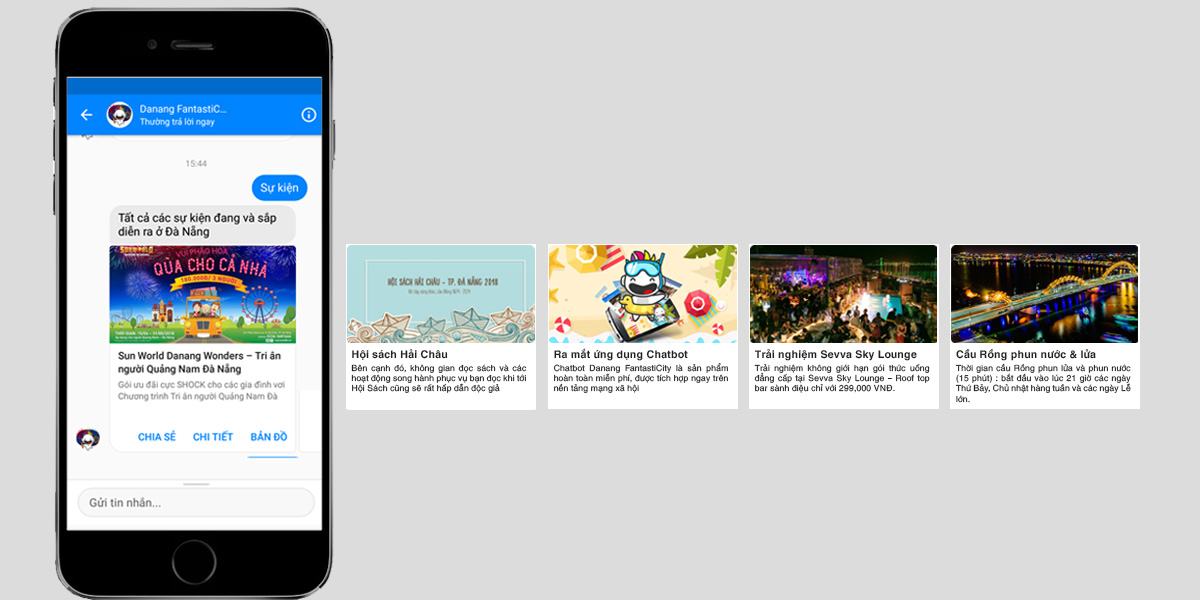 3. E-coupon with real-time discount information
With only one simple touch, by registering with email or phone number, tourists can now receive e-coupon bar codes with great price promotions on Danang FantastiCity Chatbot. A wide range of attraction sites, tourist activities, entertainment outlets around the city offer e-coupons via the bot.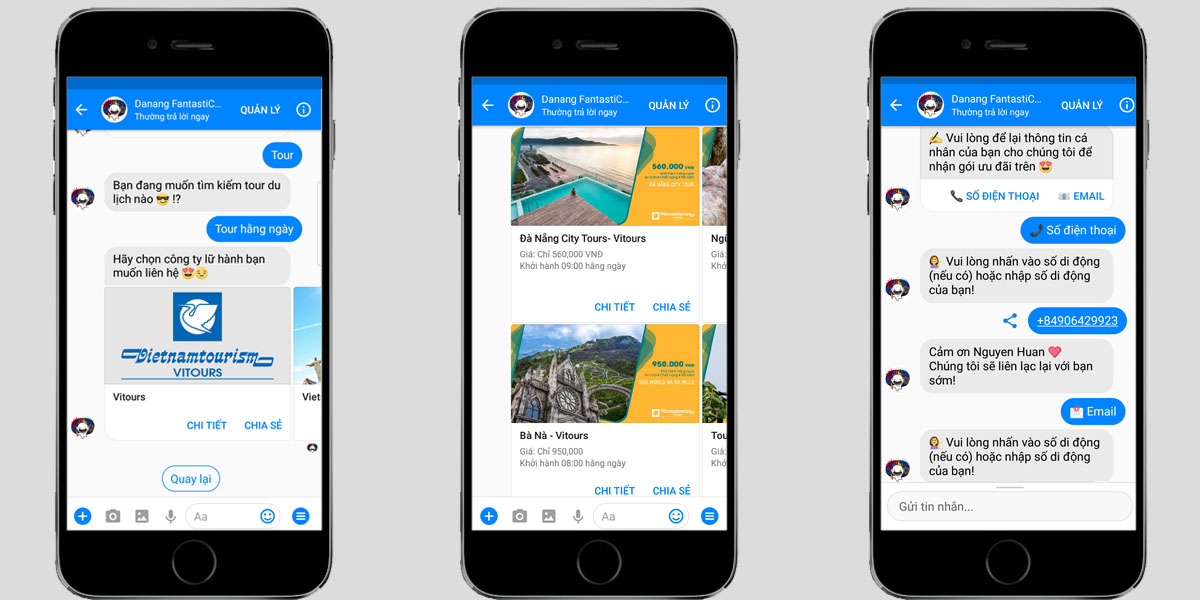 4. 02 language options: English – Vietnamese
Beside assisting domestic travelers, the travel Chatbot can now communicate and provide support to international tourists at ease, with updated English language for all information categories. In the future, Danang FantastiCity Chatbot will see an addition of other commonly-used languages such as Chinese, Korean and Japanese.
5. Notifications of upcoming events
Danang FantastiCity Chatbot can send notifications about upcoming events all around Danang city to users who have previously been to these events. After going under experiment for 6 months, the travel Chatbot has been releasing news updates on major event happenings such as: Places to visit during Tet holiday, Danang International Fireworks Festival, …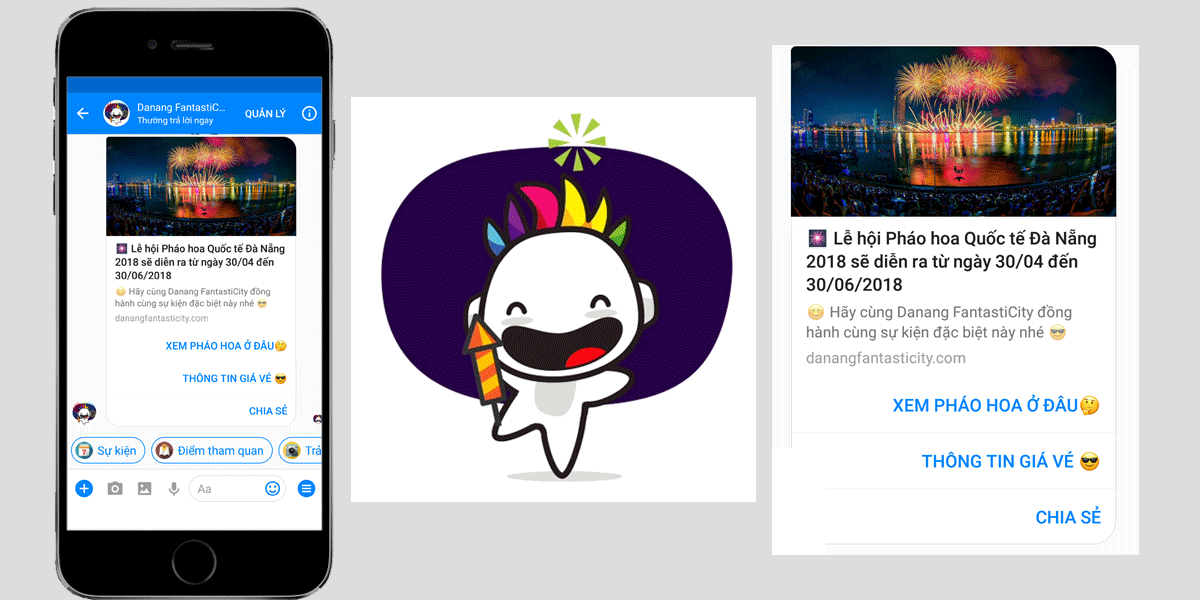 An efficient, optimal marketing and communication tool for the city tourism bureau and other private travel businesses. A helpful and convenient travel assistant for tourists (instant search results, user-friendly design, no need to download, easy communication)
HOW TO ACCESS CHATBOT
Go to website danangfantasticy.com: Click on Messenger icon.
Go to Danang FantastiCity Facebook page: Click on 'Get Started' chat button.
For access via Messenger (Facebook): Search keyword 'visitdanang'
Scan Messenger code: Select 'Scan code' option on Messenger and scan
Scan QR Code
Click to this link: http://m.me/visitdanang
"Chatbot" or "Virtual Assistant" or "Artificial Conversational Entity" are terms referring to an Artificial Intelligence (AI) feature that enables computers to simulate conversation with human users. Specifically, users will input commands in auditory methods (speech) or textual methods (text) and the Chatbot program will scan for keywords within the input, then pull a reply with the most matching keywords, or the most similar wording pattern, from a database.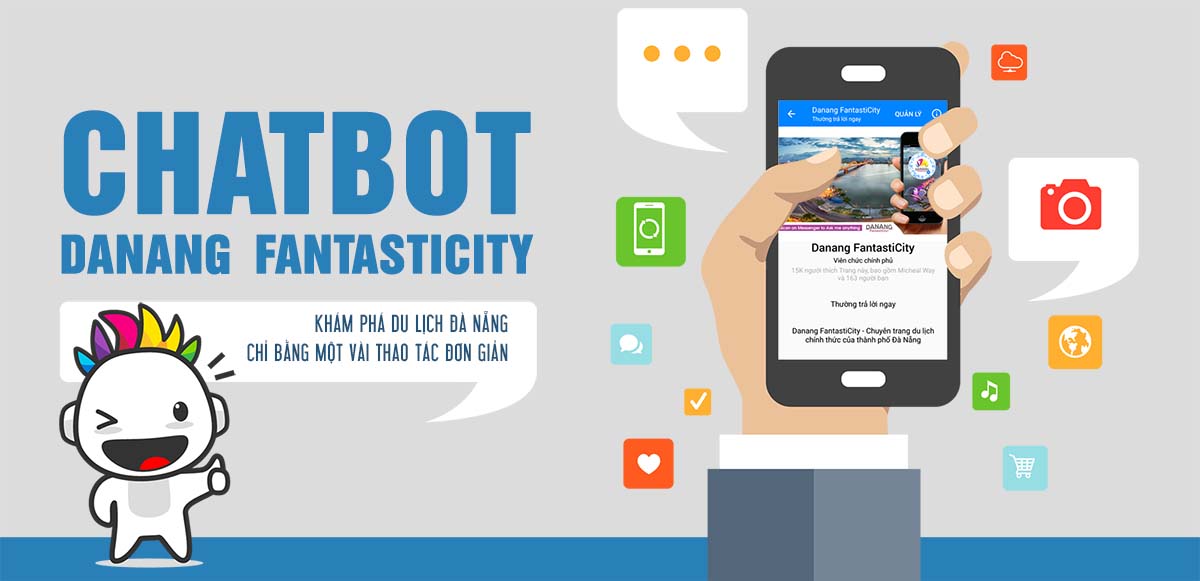 Danang FantastiCity Chatbot is a cost-free product, integrated with Facebook – the most popular social media platforms in Vietnam and compatible on smartphones using different mobile operating systems such as Android, iOS…with Internet connection via 3G, Wi-Fi. Anyone can access Chatbot by simply scan the Messenger Code or go to link m.me/visitdanang to interact with and experience using Chatbot. Joining Singapore, Danang is one in the first two cities in South East Asia to introduce the travel Chatbot application. With this official launch, the travel Chatbot is expected to become an immensely effective support for visitors to Danang for the years to come.Considering a large number of free Chatbot platform creating tools such as Messnow, Hekate…that are emerging, the Chatbot solution has become a vital development for businesses, especially for players in the travel and tourism industry. With Danang FantastiCity Chatbot, Danang Department of Tourism hopes to give tourists a refreshing travel experience, where companionship and support are granted anywhere, anytime.
Press Release: Launching Chatbot Application in tourism industry
https://danangfantasticity.com/en/news/press-release-launching-chatbot-application-tourism-industry.html